Newest CD Releases
Download Full Discography.pdf
SAYAT-NOVA: SONGS OF MY ANCESTORS
Armen Donelian
(SSC-4018)
2 CDs
Available April 1, 2014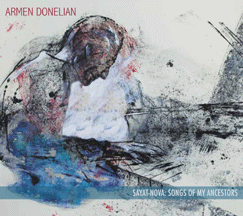 This two-CD album is certain to be regarded as one of 2014's best. - Doug Ramsey's Rifftides *Recommended* (May 5, 2014). Read entire review here.

Armen Donelian is a massively gifted pianist. - Downbeat *Editors' Pick* (April 2014). Read entire review here.

His expansive improvisations occupy a beautifully elusive place somewhere between the taciturn introspection of Erik Satie's Gnossiennes, the modal lamentations of John Zorn's Masada songbook and the genial invention of Art Tatum's solo recordings. - Downbeat (July 2014). Read entire review here.

As a child, the sounds of Middle Eastern, European Classical and American Jazz records were continually present in our multicultural household. These three threads form the tapestry of Sayat-Nova: Songs Of My Ancestors. Integrating them into a single coherent work is the realization of my lifelong aspiration. Here, the quintessential and exquisite melodies of the 18th Century troubadour Sayat-Nova are respectfully preserved, then further transformed through an alchemy of contemporary Jazz harmony and polyrhythm, and finally polished with a Classical aesthetic. I am proud to present Sayat-Nova: Songs Of My Ancestors to a broader public. - Armen Donelian (from CD booklet)

including:

Disc 1 - Solo Piano
Where Do You Come From, Wandering Nightingale? / Oosdi Goukas Gharib Blbool?
I Have Traveled The Whole World Over / Tamam Ashkhar Bdood Eka
Without You, What Will I Do? / Arantz Kez Eench Goneem?
Surely, You Don't Say That You Also Cry? / Ches Asoum Te Latz-es Eli?
I'll Never Know Your True Worth / Hees Koo Gheemetn Cheem Geetee
I Call Lalanin / Hees Ganchoom Eem Lalaneen
Praised Among All Instruments (Kamanche) / Amen Sazi Mechn Govats (Kamanche)
With The Nightingale You Also Cry / Blbooli Hit Latz-es Eli
Were I Offered Your Weight In Pearls / Tekouz Koo Kashn Markrit Tan
Disc 2 - Trio
King Of Cathay / Shahkhatayee
Your Headdress Is Silver And Silk / Tasdamazt Sim Oo Sharbab
My Sweet Harp / Eem Anoush Davigh*
You Are Golden And Exotic Brocade / Tipa Oo Yenkitoonia
As Long As I Draw Breath / Kani Vor Jan Eem
Armen Donelian | piano
David Clark | bass
George Schuller | drums

All Songs Composed By Sayat-Nova (Public Domain) except (*) Composed by Khachatur Avetisyan.
All Arrangements Composed By Armen Donelian.
Buy from the Store

Browse/Buy from Sunnyside Records
348 West 38 Street
New York, NY 10018
(212) 564-4606 fax: (212) 967-2968
---
LEAPFROG
Armen Donelian Group
(SSC-4010)

Hold on to your hat. This is Donelian's 9th set for Sunnyside, and even after a four decade career where he played with all the jazzbos that matter, he still might be the heaviest cat you never heard of. A New Yorker that likes to explore his Armenian roots, he is a piano improv player of the first order. This is an angular set of sitting down jazz that certainly doesn't take things lightly. Certainly the kind of cat that knows how to keep a foot in each of the past and the future, he's captured that vortex where moldy figs and progressives can meet and each be right about what they hear, even if they can't convince the other. Donelian and his crew know how to work up a sweat. - Chris Spector, Midwest Record (7/30/11)

Pianist, composer, bandleader, and educator Armen Donelian has carved out an enviable career spanning four decades, including seminal stints with Sonny Rollins, Billy Harper, Chet Baker, and Mongo Santamaria. His new album Leapfrog, his ninth release for Sunnyside, released on September 13, should go a long way in rectifying his relatively unsung status as an improvising artist of the highest order.

Working with an exceptional band comprised of Dutch tenor saxophonist Marc Mommaas, guitarist Mike Moreno, veteran bassist Dean Johnson, and drummer Tyshawn Sorey, Donelian focuses on his spacious, lyrically charged compositions.

"The inspiration for this music came from my reflections on where the world is going these days," Donelian says. "There's so much regurgitation of older styles in jazz today, I feel the need to carry the ball a little further. As Diz once said, it's about keeping one foot in the tradition, and one in the future."
including:
Rage (Donelian)
The Poet (Donelian)
Winter (Donelian)
Behind the Veil (Donelian)
Bygone (Mommaas)
Smoke (Donelian)
Mexico (Donelian)
Inner Sanctum (Donelian)
Armen Donelian | piano
Marc Mommaas | saxophone
Mike Moreno | guitar
Dean Johnson | bass
Tyshawn Sorey | drums

More reviews here.
Buy from the Store

Browse/Buy from Sunnyside Records
348 West 38 Street
New York, NY 10018
(212) 564-4606 fax: (212) 967-2968
---
OASIS
Armen Donelian Trio
(SSC-4007)

Oasis quickly establishes a high level of musical discourse and never falters from it. - Jazz Times (2008)
Refreshingly free of stiffness or pretense. In a music market filled with choices, this recording is an oasis of honest, multifaceted, breathing music. - All About Jazz (2008)
Armen Donelian is not a familiar name in jazz, although those who have heard him play might wonder why. Oasis is his 11th release as a leader, and his impressive sideman credits include Mongo Santamaria, Sonny Rollins, Chet Baker, Paquito D'Rivera, and Thomas Chapin. The medium-tempo title track, "Oasis," is a gracefully structured and thoughtful Donelian composition. His creative phrases are lucidly articulated, and his ample technique is used only to capture the harmonic essence of his theme, not to mindlessly hide any lack of inspiration. Donelian has an appealingly delicate touch, and his classical training and early studies with Richie Beirach helped develop his sensitive, reflective and openly expressive approach to tunes such as this. Clark and Schuller, his rhythm team for the past four years, support him skillfully and sympathetically, and Clark contributes a finely crafted solo of his own. Now in his late 50s, the New York- born pianist of Armenian descent is a rewarding listen. Sample Donelian – you won't be disappointed. – Jazz.com (2008)
including:
Oasis (Donelian)
Spree (Donelian)
Sunrise, Sunset (Bock/Harnick)
Waiting for Flora (Donelian)
Django (Lewis)
Easy Does It (Donelian)
Lady Of Ghent (Donelian)
Sans Souci (Donelian)
Armen Donelian | piano
David Clark | bass
George Schuller | drums
Buy from the Store

Browse/Buy from Sunnyside Records
348 West 38 Street
New York, NY 10018
(212) 564-4606 fax: (212) 967-2968
---
ALL OR NOTHING AT ALL
Armen Donelian/Marc Mommaas
(SSC-4002)

Armen Donelian is a true professional and one of the standard bearers of the New York piano scene for several decades having played with many of the greats of our time (Sonny Rollins, Mongo Santamaria, Chet Baker). In the early 1970's, he spent a concentrated study period with my partner, Richie Beirach. Marc Mommaas, who grew up in the Netherlands and has spent a good deal of time in the past few years in New York, did some studying with me. Both Richie and I are very conscious of sound and the importance of being able to coax a wide variety of colors from one's instrument. On this recording these two gentlemen generate a wide palette of sound to enjoy while sustaining interest, beauty and thoughtfulness throughout. The duo's artistry is at the highest level because they are in full communication with each other, the music and the audience as well. This is art for serious people who enjoy being taken on an intense musical voyage. - David Liebman (from the liner notes)
including:
Invitation (Kaper/Webster)
All Or Nothing At All (Lawrence/Altman)
Renewal (Donelian)
Children's Song (Mommaas)
Stargazer (Donelian)
Armen Donelian | piano
Marc Mommaas | tenor saxophone
Buy from the Store

Browse/Buy from Sunnyside Records
348 West 38 Street
New York, NY 10018
(212) 564-4606 fax: (212) 967-2968
---
QUARTET LANGUAGE
(PSR#J050292)

The real strengths of this record are Donelian's diverse compositions and Chapin's talent for extracting the most from every phrase. Without either part, the record just wouldn't work. Mark Armen Donelian on your list of musicians to watch, and rejoice at another opportunity to hear Thomas Chapin do his thing. - All About Jazz (2003)
An acrid alchemy festers among these players, especially Donelian and Chapin...bravely adventurous and breathlessly delicate. - All About Jazz (2004)
including:
Jabberwackey (Donelian)
The Germ (Donelian)
Mexico (Donelian)
Loose As A Goose (Donelian)
Brood Mood (Donelian)
Armen Donelian | piano
Thomas Chapin | alto saxophone
Calvin Hill | bass
Jeff Williams | drums
Buy from the Store

Browse/Buy from Playscape Recordings
64 Belleclaire Avenue
Longmeadow, MA 01106
p/f: (413) 567-7967
---
Grand Ideas - Vol. 3: FULL MOON MUSIC
Free Improvisations for Solo Piano
(SSC-1090)

Armen Donelian uses his experience with European concert music, jazz and other genres to generate compositionally cohesive statements that make full use of the piano's resources and his world-class technique. Without being self-indulgent, he 'gets out of his own way' and allows himself to be taken away by the music. This is a beautiful and personal recording. - Fred Hersch (from the liner notes)
including:
Preamble (Donelian)
A Call To The Spirits (Donelian)
The Witch's Cauldron (Donelian)
Nostalgia (Donelian)
Fractured Dream (Donelian)
On The Dark Side Of The Moon (Donelian)
When A Girl Dreams Of Love (Donelian)
Beer Drinkers' Anthem (Donelian)
Springtime In The Rose Garden (Donelian)
Barren Landscape (Donelian)
Young Asses At Play (Donelian)
Blues Montage (Donelian)
Pilgrimage (Donelian)
Redemption (Donelian)
Armen Donelian | solo piano
Buy from the Store

Browse/Buy from Sunnyside Records
348 West 38 Street
New York, NY 10018
(212) 564-4606 fax: (212) 967-2968
---
Grand Ideas - Vol. 2: MYSTIC HEIGHTS
Original Compositions for Solo Piano
(SSC-1089)

On his recent Mystic Heights, he applies that same balance [as on Wave] between tension and release to a program of sensitive originals. - Gary Giddins, Village Voice/Voice Choices (2002)
including:
Ode (Donelian)
Devotion (Donelian)
Bare Hearts (Donelian)
Little Flower (Donelian)
Amour (Donelian)
Exiled Dreams (Donelian)
Mexico (Donelian)
Spree (Donelian)
Armen Donelian | solo piano
Buy from the Store

Browse/Buy from Sunnyside Records
348 West 38 Street
New York, NY 10018
(212) 564-4606 fax: (212) 967-2968
---
Grand Ideas - Vol. 1: WAVE
Select Standards for Solo Piano
(SSC-1088)

Armen Donelian has pared down his considerable technique in favor of a dramatic lyricism that, in pieces as old-hat as 'All of Me' and as unlikely as 'Our Day Will Come' and a couple of Beatles ballads, he sustains with controlled and expressive poetry. - Gary Giddins, Village Voice (2001)
Wave is not about the velocity of swing, but about the gift of masterful musical insights and transformations. It is a mature and gracious musical blessing. Every lover of standards and every jazz musician seeking to breathe new life into them would do well to listen and study here. Wave is a gem. - Don Glasgo, Jazz Improv (2001)
including:
I Will (Lennon/McCartney)
All of Me (Simons/Marks)
Solitude (Ellington/DeLange/Mills)
The Song Is You (Hammerstein/Kern)
I've Grown Accustomed To Her Face (Lerner/Loewe)
Our Day Will Come (Garson/Hilliard)
Wave (Jobim)
Here, There and Everywhere (Lennon/McCartney)
Armen Donelian | solo piano
Buy from the Store

Browse/Buy from Sunnyside Records
348 West 38 Street
New York, NY 10018
(212) 564-4606 fax: (212) 967-2968
---