1 | 2 | 3 | 4 | 5 | 6 | 7 | 8 | 9 | 10 | 11 | 12 | 13 | 14 | 15 | 16
Romania
click for larger view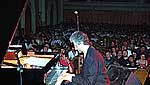 fig 54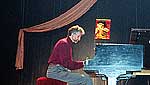 fig 55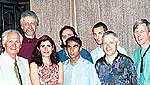 fig 56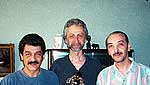 fig 57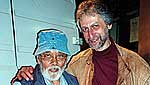 fig 58
During the Fulbright orientation conference in Washington, DC, in July, 2001, I had met another Fulbright Scholar, saxophonist Rick Condit, who coincidentally would be teaching Jazz in Romania during the same time period I had planned on being in Armenia.
By invitation from Condit and the Romanian Fulbright Commission, I toured that country for nine days during May 17th-26th, performing in four concerts (two solo, two with Condit and local Romanian musicians) in the cities of Bucharest, Cluj and Iasi including a featured solo piano performance in that city's 4th Annual Richard Oshanitzky Jazz Festival [fig 54, 55]. I also taught three master classes.
The Romanian visit was especially interesting because I witnessed the social, economic and political progress since the malfeasance of the Ceaucescu era, when in 1980 I first traveled there as a member of the Billy Harper Quintet, and again in 1986 as a solo artist (with the help of USIA). I also had a chance to reconnect with people I hadn't seen in 16 years [fig 56, 57, 58]. Romania today is a changed country from the one I visited then, politically, economically, socially.
The trip also gave me an opportunity to compare my Armenian experience with that of another post-Soviet country, one with which I was somewhat familiar because of my prior visits there. I found that after 10 weeks in Armenia, Romania felt like the West.
While Romania has economic and political problems that echo those in Armenia, its abundant natural resources, generous sea coast and land connection to Europe give it great advantages that Armenia lacks. Romania is further along in its transition from a post-Soviet to a neo-Capitalist society. Armenia, it seems to this observer's eye, has many more difficult problems to solve. Likewise, as a Latin people Romanians sense a direct connection to Western European culture and ideas. The students I met there seemed to identify more easily with Jazz than Armenians.
When I returned from Romania to Yerevan on May 26th to complete the final week of my YSC residency, I was profoundly sad to realize not only that the end of my visit was near but also that, while I would be returning to a better place, most of the people in Armenia - including many of those who had been so kind to me - would and could not leave behind the problems in this tiny, land-locked remnant of what was once a great nation, the nation of my ancestors, beset on all sides by hostile neighbors and harsh domestic realities.
<< previous page || next page >>