1 | 2 | 3 | 4 | 5 | 6 | 7 | 8 | 9 | 10 | 11 | 12 | 13 | 14 | 15 | 16
Armenia
click for larger view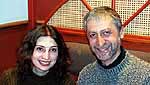 fig 13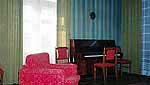 fig 14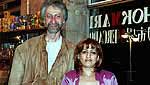 fig 15
During the plane ride to Armenia I felt completely groundless. I had previously emailed the American Consulate in Yerevan with my arrival information but hadn't received a confirmation that I would be picked up at Zvartanots Airport.
Fortunately a driver appeared soon after I arrived and took me to the Consulate. I met with Hasmik Mikayelyan [fig 13], the assistant to Public Affairs Officer John Balian, and explained the mess I was in. A total professional, she quickly helped me sort through the various issues and the means for resolving them. In a few minutes I was talking with Balian. He was an enormous help. He granted me a $250. loan to tide me over until my cash could be wired from St. Petersburg to Yerevan.
On March 9th, I finally settled into a cozy fourth-floor, one-bedroom apartment at 1 Tamanyan Street with a piano, hot water and a five minute walk to YSC, the Consulate and two main Jazz clubs. My rent was reasonable at $250. per month [fig 14].
Exhausted, I came down with a potent virus that persisted for several weeks. I struggled with the second-hand smoke found everywhere in Armenia (I specifically had to prohibit smoking in my classroom) as well as the acrid, unregulated auto emissions. Furthermore, drivers - not pedestrians - have the right of way in Yerevan, so a simple walk down the street became a dangerous as well as a sickening experience.
Nonetheless, shopping at Mrs. Babokhyan's grocery was fun, between my broken Armenian and her broken English. We laughed as we figured out what was on my list [fig 15]. Locally produced vegetables, fruits, cheeses, breads, wines and cognacs rate high in Armenia.
<< previous page || next page >>