1 | 2 | 3 | 4 | 5 | 6 | 7 | 8 | 9 | 10 | 11 | 12 | 13 | 14 | 15 | 16
Yerevan State Conservatory (YSC)
click for larger view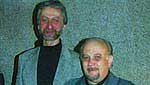 fig 16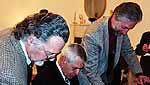 fig 17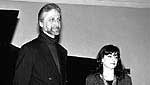 fig 18
On March 6th I met with the administrative staff of the Yerevan State Conservatory to formally discuss the terms of my Fulbright residency. The rector, Armen Smbatian, who had supported my previous projects and approved my Fulbright application, did not attend the meeting and actually left YSC during my second month to assume an ambassadorship to Moscow. I saw him only twice during my stay. The vice-rector for international affairs, Gagik Sayadyan, led the meeting. While I later came to know him as a decent man, Sayadyan had an inflexible sense of protocol and not being a musician was unaccustomed, I soon learned, to receiving creative input from his colleagues...
Also present were three YSC professors I knew from previous visits. Yervand Yerzinkian [fig 16], the Jazz department coordinator, bassist, composer, arranger and big band leader, was sympathetic to the needs of my residency but too busy to be of more than hasty service, and unfortunately does not speak English. Martin Vartazarian [fig 17], Jazz pianist, film and theater composer, arranger and professor admired by students and faculty alike for both his warmth and prolific accomplishments, was friendly but uninvolved in the day-to-day management of my residency. My translator, Marine Matsakyan [fig 18], an assistant professor of Classical ear training, theory and musicology with a strong interest in Jazz and the person at YSC with whom I had most contact, was instrumental in organizing my residency both in and out of the classroom. We were joined by Mikayelyan from the Consulate.
In the meeting, Sayadyan seemed to intend to obstruct rather than assist me. His administrative style discouraged a feeling of safety and a free flow of ideas. He lectured us - three Conservatory faculty and two complete strangers - about the importance of adhering to an "ethnic ideology." His presumptive tone showed no appreciation for the high rank all of us hold in our various professions. He made a derogatory remark about jam sessions, an effective pedagogical method without which Jazz cannot be taught. He dismissed a request from Yerzinkian to provide secure storage for his musical equipment loaned to YSC during my residency. Finally, Sayadyan insisted that my residency would be managed on an "ad hoc" basis, leaving the impression that it didn't occupy a place on his list of priorities.
In spite of the adverse tone of this official preliminary, I overlooked my reaction and agreed to teach 6 hours a week at YSC and lead a weekly public jam session at the studio of the Big Band of the Armenian National Radio. Before I could begin, however, I needed to find a place where my teaching materials could be securely stored.
<< previous page || next page >>