1 | 2 | 3 | 4 | 5 | 6 | 7 | 8 | 9 | 10 | 11 | 12 | 13 | 14 | 15 | 16
France
click for larger view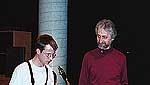 fig 59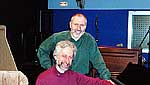 fig 60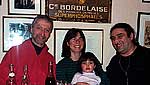 fig 61
fig 62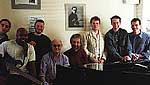 fig 63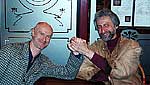 fig 64
Homeward bound, I retraced my route through Russia and France. Again, I faced difficulties in St. Petersburg airport where on June 1st I was not allowed through passport control because I lacked a transit visa. (I was not told either by the US Consulate or by the airline that I would need this.) After explaining to the agent that I was in transit and had no intention to remain in Russia, I was asked to remain in the entrance hall where I waited for an hour before being escorted like a fugitive by two customs officials in a police van from Pulkovo Terminal 1 to Terminal 2, where I was able to board my flight to Paris and (so it seemed) to freedom.
In France, I had arranged to spend a week teaching and performing in Paris by the help of Herve Sellin, one of the full time Jazz professors at the Paris Conservatory and a fine pianist himself. In a two-day master class at the Paris Conservatory attended by approximately 10 students, many of whom are remarkably accomplished, I discussed and performed my original compositions and worked with the students on harmonic ear training, chord/scale relationships, solo piano performance, rhythm section playing, vocal accompaniment and the interpretation of Jazz standards. I felt honored to join the ranks of Lee Konitz, Roy Haynes and other Jazz luminaries who also have taught at the school [fig 59, 60].
On June 5th, a mishap occurred when a dish I was washing slipped and broke, deeply gashing my right hand and forcing the cancellation of my only Paris appearance, a trio engagement at the Sunside Jazz Club scheduled for June 6th with bassist Gilles Naturel and drummer Phillipe Soirat. Disappointed, I tended the wound with the kindness and support of my hosts, Frederic Manoukian and Yvonne Lemonnier, whose help was indispensable [fig 61].
On June 7th, the day before my return to the United States, I met for the first time a distant relative, Charles Donelian, with whose daughter my cousin, Dicran Donelian, had made contact through the internet some months prior. Charles' grandfather and my grandfather were brothers. While my grandfather left Turkey and emigrated to the USA after the death of 27 family members at the hands of Turkish soldiers in 1915, Charles' grandfather settled in France. Charles and I met in a cafe near L'Opera and talked non-stop for two hours, exchanging accounts of our experiences growing up as diasporan Armenians. It was an emotional meeting for us both [fig 62].
On the same day, I paid a visit to the Bill Evans Piano Academy where, once again, I saw my friend Bernard Maury, pianist and director of the school. He invited me to attend his piano master class as a guest lecturer where I listened to and exchanged ideas with his students [fig 63]. That evening, I had dinner with Francois Lacharme of Jazzman Magazine, another friend of long standing and one of my staunchest critical admirers [fig 64].
<< previous page || next page >>