1 | 2 | 3 | 4 | 5 | 6 | 7 | 8 | 9 | 10 | 11 | 12 | 13 | 14 | 15 | 16
Jazz Library
click for larger view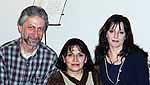 fig 19
The Fulbright award provides a generous allowance for the purchase and shipment of teaching materials. Prior to my departure, I had sent four large boxes crammed with CDs, books, scores and stationery supplies via the State Department's diplomatic pouch system and they arrived successfully at the US Consulate in Armenia. With donations from Jamie Aebersold Music, Advance Music, Sunnyside Records, Sher Music, Second Floor Music, Jim Luce and Charles Tolliver, as well as additional items I had purchased from retail stores, I intended to establish a YSC Jazz collection. This was one of my aims since my first visit to Armenia in 1998.
YSC is the pinnacle of the music education system in Armenia. Soon after my arrival, however, I toured its library and discovered its deteriorated condition - like something from the movie Raiders of the Lost Ark - with books exposed to the elements, and dust and cobwebs everywhere. The YSC building itself is in dire need of a gut renovation including electrical, plumbing and heating systems. Along with other decaying older buildings, it stands next door to shiny new casinos, banks, restaurants, boutiques, massage parlors and convenience stores supported by an underground (underworld) cash economy.
While this is typical of Armenia, my main concern became to safeguard the Jazz materials (worth about $1,500.) and assure their availability for future as well as the current generation of students. After weeks of frustrating bureaucratic maneuvering with YSC (during which the materials sat unused in their shipping boxes in Sayadyan's office), I managed to favorably coax the wheels of karma. Through the generosity of Folk Music professor Anahit Kirakosyan [fig 19] and using the funds provided by my Fulbright allowance, on April 9th I procured a lockable cabinet with the help of Yerzinkian and Matsakyan and temporarily situated it within the safely gated Folk Music library collection. Thus, on April 12th the Jazz library was established. On March 18th I had also bought a cd player for my in-classroom listening sessions and on my departure I donated it to the Jazz collection.
Nothing quite like this has happened in recent memory at YSC. Simple acts like these can take forever to perform in Armenia. The Jazz students and faculty alike are extremely grateful and making good use of the Jazz library.
<< previous page || next page >>