1 | 2 | 3 | 4 | 5 | 6 | 7 | 8 | 9 | 10 | 11 | 12 | 13 | 14 | 15 | 16
Other activities in Armenia
click for larger view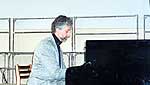 fig 46
fig 47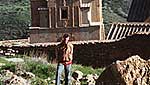 fig 48
In addition to my activities in the Capitol, I took a day trip on May 8th with the assistance of the US Consulate to perform in Vanadzor, Armenia's third-largest city. The appearance was arranged through Prof. Jeanne Gevorkyan of the Vanadzor Music College where I had performed on a previous visit in 1999.
Vanadzor is separated from Yerevan by a lush grazing and farming region lined with craggy, snow-capped mountains. Located only a few kilometers from Spitak, the city hardest struck by the earthquake of 1988, Vanadzor also suffered substantial damage and still has not fully recovered from the devastation. Crumpled buildings stand in mute testimony to the power of the calamity. In an area that rarely sees live performances of Jazz, I gave a solo Jazz piano concert for an audience of 300 students and professionals [fig 46]. It was a moving event for all.
I'm happy to report that one of the personal goals of my stay - to establish ties with the faculty of the YSC Folk Music department - was accomplished when I met Anahit Kirakosyan (see above).
YSC maintains a rigorous program of study to preserve and promote the performance and research of Armenian Folk music. A required curriculum of approximately 60 Folk melodies must be learned by every YSC (Folk and non-Folk Music) student. Instruction is given to YSC Folk music majors on the duduk, zourna, tar, kimanche, kanoon, oud, dehol and other native Armenian Folk instruments. In addition to repertoire and performance, students learn the improvisational practices. On this point - improvisation - there was common ground between the Folk musicians I met and the Jazz I play.
On Kirakosyan's advice, I purchased four rare volumes of Folk music by the Armenian composers Komitas and Sayat Nova. Seeing my interest, she generously gave me copies of several other collections for my own study.
As a practitioner of meditation and yoga, I had sought but couldn't find an existing yoga class to attend while in Armenia. So, I started teaching one as a way of supporting my own spiritual practice and meeting like-minded people. I talked it up among my Armenian friends. I also placed an ad in the US Consulate's staff newsletter to which two Americans responded. They, together with three Armenians, formed the class and we met several times during April and May for two hours of pranayama, asanas and discussion.
April 24th is the day people of Armenian descent around the world commemorate the Armenian Genocide of 1915. On that day, I visited the Genocide Memorial in Yerevan with two of my students, Nelly Manukyan and Garen Karapetian. I paid my respects by laying flowers at the eternal flame along with the thousands of others who flocked there. I also attended the exhibit of published chronicles and photographs, some quite disturbing, documenting the ethnic cleansing of Anatolia by Turkish soldiers during which 27 members of my grandfather's family were killed. The occasion gave cause for me to reflect on how I came to be born in the United States and not elsewhere, and to grieve for those whose suffering made my good fortune possible.
While my schedule left little time for much else, I managed to take a day-trip on April 27th to visit two ancient monasteries with the help of my friends Armen and Torkom Hamasyan.
Our first stop was at the Church of St. Gregory the Illuminator located at the foot of the Great Massis. One can't adequately describe the compelling sense of awe imparted by both this ancient church, built atop the dungeon from which Gregory the Illuminator, its namesake, after being imprisoned for 12 years for his religious belief, emerged to convert Armenia to Christianity in 304 AD; and in close proximity, the towering Great Massis [fig 47], that dominates the skyline.
Noravank was our second stop, a renovated monastery located atop a remote mountain in the Areni wine district bordering Karabagh. Noravank offered an endless, sun-baked horizon with a pristine view of steep cliffs plummeting into stony riverbeds and a thundering silence undisturbed by the urban clamor from afar. Here, after generously sampling their reserve, my friends and I bought several local wines from three women minding a roadside concession on the approach road who dispensed the beverages from large vats into 2-liter plastic Coke bottles and offered sandwiches of roast pork and vegetables wrapped in flatbread called lavash. We dined by a roaring river nestled between the rocky overhangs leading up towards Noravank at the summit [fig 48].
<< previous page || next page >>