1 | 2 | 3 | 4 | 5 | 6 | 7 | 8 | 9 | 10 | 11 | 12 | 13 | 14 | 15 | 16
Jazz Appreciation Month (JAM)
click for larger view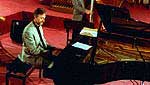 fig 36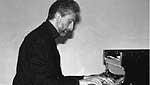 fig 37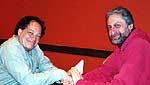 fig 38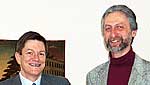 fig 39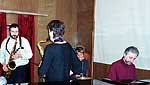 fig 40
By sheer luck, my Fulbright residency coincided with Jazz Appreciation Month (JAM), a worldwide program in April sponsored by the US Department of State and the Smithsonian Museum to promote the awareness of Jazz. As part of this program, the US Consulate in Yerevan organized a month-long series of concerts, lectures and other events in which I was featured prominently alongside American and Armenian Jazz personalities.
The opening JAM concert celebration took place at Yerevan Philharmonic Hall on April 4th in a simultaneous live broadcast on Armenian National Television and Radio. The featured performers were pianist Levon Malkhasyan and his Quartet, drummer Chico Tootoonjian and Friends, the Big Band of the Armenian National Radio led by Yervand Yerzinkian, and myself, solo pianist Armen Donelian.
On April 12th, JAM presented The Donelian Trio with bassist Kolya Vardanyan and drummer Sash Agamyan at the beautiful Yerevan Chamber Music Hall performing to a full house in an evening of Jazz standards by composers including Duke Ellington and Miles Davis, as well as several Donelian originals [fig 36]. Vardanyan, a full-time cellist like his father and grandfather before him, performs regularly on that instrument in the Yerevan Philharmonic Orchestra in addition to his outstanding work as an acoustic Jazz bassist. Agamyan, one of Yerevan's most experienced drummers of the young generation, rounded out the performance nicely.
And on April 17th, I gave a standing room only solo piano recital as part of the JAM series at the Khatchturyan Museum Hall, which reportedly has the best concert grand in Armenia [fig 37]. Pieces by the Armenian composers Sayat Nova and Komitas, Americans Gershwin, Brubeck, Corea and numerous Donelian works including the premiere of Dark Mission, written in response to the World Trade Center tragedy on September 11th, 2001, made up the program.
Noted Jazz journalist Howard Mandel was invited to Armenia by JAM to present lectures in several cities on topics related to Jazz history. His appearance allowed us to renew our 25-year acquaintance [fig 38], as Mandel had penned my first Downbeat review in 1975 for my performance on Mongo Santamaria's lp Afro-Indio.
The Virginia Mayhew/Allison Miller/Gary Wang Trio, while on an international tour representing the Kennedy Center for the Performing Arts' Jazz Ambassadors program, also gave several performances and master classes in Armenia under the auspices of JAM, including a recital and reception at the home of Hon. John Ordway, US Ambassador to Armenia [fig 39] and a workshop at YSC at which I sat in with the group [fig 40]. The trio was regarded with great interest in Armenia, where women generally lead Jazz combos only as vocalists and rarely, if ever, perform on saxophone or drums.
So, happily, there were more live performers than usual in Yerevan during the month of April. The concurrence of these two American-sponsored programs - Fulbright and JAM - supported my YSC residency by giving the Conservatory students additional live performances to observe, listen to and learn from.
<< previous page || next page >>