1 | 2 | 3 | 4 | 5 | 6 | 7 | 8 | 9 | 10 | 11 | 12
11: Trauma, Spirit, Chapin, Solo Concerts
In 1990, everything was going well in Donelian's life. However, in 1991 Donelian suffered a traumatic accident to his hands, in which he lost partial use of, and sensation in, his left thumb. Later the same year, his father died.
Donelian's spiritual practices, cultivated intuitively and unhurriedly over the years, now came in to support him through these difficult life tests. The practice of Kripalu yoga and Insight Meditation has been and continues to be central to Donelian's life, survival, renewal and evolution.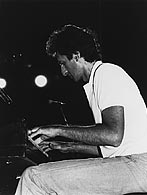 Never a person to sit in one place for too long, Donelian led his own quartet in New York featuring the late alto saxophonist Thomas Chapin as the front horn, and appeared as a featured guest artist with Chapin's trio at the Village Gate and in the 1991 Toulon Jazz Festival (pictured) just months after his hand injury.
Donelian also continued to appear as a solo pianist, presenting a 2-hour concert at the Canadian National Gallery of Art in the 1994 Ottawa Jazz Festival. In 1996, Donelian gave a standing-room-only solo piano concert at the Caramoor Jazzfest in Katonah, NY, that was recorded for broadcast on American Public Radio by producer Jim Luce.