1 | 2 | 3 | 4 | 5 | 6 | 7 | 8 | 9 | 10 | 11 | 12
12: NEA, Rhythm Section +1, Jazz in Armenia Project, Grand Ideas and Fulbright Scholar
Indeed, Donelian has been fortunate. Over the years he has received six NEA Jazz Performance Fellowship Grants to present performances at Carnegie Recital Hall (1984, with David Liebman, Harvie Swartz and Bob Moses) and St. Peter's Church (1987, solo piano) in New York City, and a program of master classes called The Rhythm Section + 1 Series (1990-6).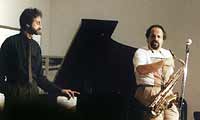 Established artists including Jim Hall, Lee Konitz, Paquito D'Rivera, David Liebman, Randy Brecker, Claudio Roditi, Dewey Redman, Eddie Gomez, George Mraz, Tom Harrell, Joe Lovano (pictured), Billy Harper, Joe Chambers and Billy Hart joined Donelian for several seasons in this highlight of 1990's New York Jazz life, hosted by The New School Jazz Program.
Donelian has also become a frequent workshop leader at colleges, universities, high schools, middle schools, and in Jazz camps and clinics, including the Berklee College of Music (1993, 98), the Vermont Jazz Center (1993-5), the Interplay Jazz Camp - NH (1997-2000), the Montclair State University Summer Jazz and Music Technology Workshop - NJ (1998-2000), the Artist-Teacher Institute (1989-96, NJSCA Residency), the International Association of Jazz Educators (1991), the International Association of Schools of Jazz (1994), the Hot Clube de Jazz - Portugal (1996), the Tucson Jazz Society (2000), Red Bank Regional High School (1998, NJSCA Residency), Manhattan School of Music (1989-93), Mannes/New School Jazz Program (1997), Mankato State University - MN (1997), Manahawkin Regional High School - NJ (1993, 97) and the University of Arizona (2000). (Partial listing)
In 1998, Donelian traveled for the first time to Armenia to perform in the first Yerevan International Jazz Festival, and to present several first-ever Jazz master classes at the Yerevan State Conservatory. In 1999, with support from an Artslink Collaborative Grant from CEC International Partners and the Hovnanian Armenian School in New Jersey, Donelian initiated the Jazz in Armenia Project, an artistic, educational and inter-cultural initiative, presenting a program of master classes, impromptu workshops, Donelian's solo concert at the Yerevan Chamber Hall, and concerts honoring humanitarian efforts with local musicians in rural parts of Armenia. In March 2000, Donelian continued this lively exchange in another week of workshops and concerts, receiving the title of Visiting Professor of Jazz from the Yerevan Conservatory. In 2001, Donelian received a Fulbright Scholar Award in recognition and support of his ongoing work in Armenia to return a fourth time as a Fulbright Scholar to teach Jazz master classes for three months at the Yerevan State Conservatory in March 2002.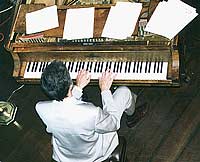 In August, 2000, Sunnyside Records released Donelian's most ambitious recording effort to date, a three volume set of solo piano CDs called Grand Ideas. Recorded in his living room on the Steinway grand piano his father purchased when Donelian was 11 years old, Grand Ideas represents Donelian's lifetime devotion to the piano, composition and improvisation. Volume 1, Wave, features a repertoire of selected standards and popular songs. Volume 2, Mystic Heights, focuses on Donelian's own compositions, and Volume 3, Full Moon Music, features Donelian's spontaneous improvisations.