1 | 2 | 3 | 4 | 5 | 6 | 7 | 8 | 9 | 10 | 11 | 12
7: Norway, NEA, Quintet, A Reverie, Trio '87, Studies with Seletsky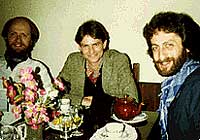 Donelian's repeated treks to Europe with Harper led to his own engagements with Oslo-based bassist Carl Morten Iversen and drummer Espen Rud. In the Spring of 1982, with the help of Iversen and Rud (pictured), Donelian embarked on his first European trio tour as a leader, performing original as well as standard material for two weeks in Norway. The tour took the trio to clubs in Oslo, Bergen, Tromso and elsewhere. The late Randi Hultin, the journalist who for decades championed the cause of Norwegian Jazz, wrote often about Donelian's appearances.
Donelian applied for and received a grant from the National Endowment for the Arts, which he used to produce a second Carnegie Recital Hall concert in 1984 with an all-star quartet featuring David Liebman (tenor and soprano saxophone), Harvie Swartz (bass) and Bob Moses drums). These outstanding musicians enabled Donelian to bring a higher level of experience and insight to his compositions. Donelian also led a quintet with Liebman, Swartz, Keith Copeland (drums) and Arto Tuncboyaciyan (percussion) in a concert later that year at William Paterson College.
Donelian also decided to make a second album, for solo piano. He had already done plenty of solo piano work in his Conservatory years, in college, in clubs and concerts around New York City and as a featured solo pianist in Finland's 1983 Pori Jazz Festival. So in 1984, Donelian again created a recording from scratch, sent cassettes to prospective labels, and again got rejected from all sides.

Finally, two years after he produced it, Donelian's solo piano album A Reverie was released in 1986 by Sunnyside Records. It received critical praise from many circles and led to more solo and quintet tours during 1986-87 in Turkey, Romania (as a USIA-sponsored guest), France, Norway, Finland and Sweden. In 1987, a second NEA grant allowed Donelian to produce a solo piano concert in New York's St. Peter's Church to promote the new release.
In 1984 Donelian also embarked on a rigorous study of Arnold Schoenberg's system of harmony with composer Harold Seletsky. Nearly every week for two years, Seletsky tutored Donelian using the methods presented in Schoenberg's classic volume, Theory of Harmony. The influence of this work can be seen in such Donelian compositions as "Broken Carousel" and "Parting," which appear on his Secrets CD (see below).
At this time, Donelian's health began to suffer. Severe neck and shoulder pain resulting from poor posture and inflammation of the sciatic nerve had the fortunate effect of leading Donelian to the practice of yoga, which helped alleviate these conditions.
Returning to Seletsky in 1987, Donelian took lessons in counterpoint for approximately one year, as the urge to develop his compositional facility increased. Two motets and several fugues, all unpublished, resulted from this adventure. Donelian began an atonal string quartet, but he abandoned it and his studies when he grew dissatisfied with what seemed to him to be the coldness of that harmonic language.

While on his third tour in Norway, Donelian recorded his third album, Trio '87, for the Odin label. It features Iversen, his comrade from his previous Norwegian visits, and drummer Audun Kleive, who plays on several albums with guitarist Terje Rypdal. Trio '87 documents this well-seasoned group at the height of their three-week Scandinavian tour which included Donelian's second appearance in Finland's Pori Jazz Festival. The CD received outstanding reviews from American and European critics alike and is one of the best recorded representations of Donelian's playing.