1 | 2 | 3 | 4 | 5 | 6 | 7 | 8 | 9 | 10 | 11 | 12
6: Harper, Stargazer and Frustration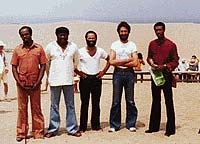 In 1979, upon the recommendation of drummer and friend Horacee Arnold, Donelian joined the quintet of tenor saxophonist Billy Harper, with whom he remained for four years. This was yet another pivotal experience for Donelian, and it provided his long-sought opportunity for musical camaraderie and career exposure to a world-wide audience. The Harper Quintet (pictured on tour in Japan in 1980) included trumpeter Everett Hollins, drummer Malcolm Pinson, bassist Gregg Maker, Donelian and Harper. Other frequent sidemen included Wallace Roney and Chris Albert on trumpet; Wayne Dockery and Louis Spears on bass; and Horacee Arnold and Newman Baker on drums.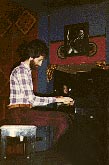 With Harper's band Donelian toured Europe and Japan for the first time, as well as the USA, making four records: Trying To Make Heaven My Home, The Believer, Live at Jazz Jamboree, and Billy Harper Quintet. Responding to Harper'sencouragement to expound at length, Donelian (pictured at The Keystone Corner, San Francisco) provided several extended solos every night. He and Harper developed a close friendship, based on their mutual interest in spiritual development.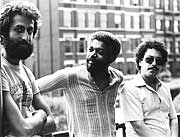 Meanwhile, in 1980, while still a member of the Harper Quintet, Donelian produced his first album as a leader back in New York with drummer Billy Hart and bassist Eddie Gomez (pictured). Donelian composed the music, hired and rehearsed the musicians, rented the recording studio and sent cassette copies to 30 record companies. After no response from most of them and rejections from the others, Donelian became frustrated. However, with the help of engineer David Baker, Japan's Atlas label eventually leased the rights to the recording and issued Stargazer in 1981.

While this LP brought encouraging reviews from Swing Journal and other periodicals in Japan where he had played with Harper and from hard-core American Jazz publications who closely observed foreign releases, Donelian's Stargazer went mostly unnoticed in the USA since Atlas had no international record distribution. The LP went out of print several years later when Atlas ceased business operations.
With the same stellar trio of Gomez and Hart, Donelian performed at Carnegie Recital Hall in NYC in the Fall of 1982. Not one critic arrived to review the concert.
Discouraged, Donelian decided to leave music and return to Columbia University to pursue a degree in computer studies. After passing the computer program's entrance exam Donelian went for the required interview at which he explained his reasons for applying, which included financial insecurity and discouragement with the music business. "We think you should stay in music," the interviewer told him. "You have already accomplished so much in that field." Of course, Donelian knew that; if only the world did.
Not sure what to do, and by now getting disillusioned with the limitations of sideman work, Donelian left Harper's band in 1983.