1 | 2 | 3 | 4 | 5 | 6 | 7 | 8 | 9 | 10 | 11 | 12
4: Columbia and Beirach
The Spring of 1968 was a tumultuous time in America: The Vietnam War, the civil rights movement, the sexual revolution, the assassinations of Robert Kennedy and Martin Luther King and a hotly contested Presidential election were among the factors that contributed to a general atmosphere of social and political unrest in cities and on college campuses across the nation. In the Fall of that year, Donelian left the lush suburban seclusion of his youth in Armonk, NY for the urban clamor of Columbia University in New York City (his father's alma mater), which had been a hotbed of political activity the previous Spring. This was also Donelian's introduction to living on Harlem's doorstep, where racial tension was high.
As the troubled echoes of student riots, building occupations and class cancellations reverberated throughout the campus community, Donelian began his formal studies in music history, composition, analysis, counterpoint, choral accompaniment and conducting, including a thorough curriculum in the liberal arts and humanities. He resided in Furnald Hall, a dormitory located on Broadway just blocks away from the old Cotton Club, the place where Duke Ellington and many other Jazz legends had performed 40 years earlier.
A slow learner, Donelian was not an excellent student. His attention was called by turbulent social events, recreational drugs and the pursuit of women. He started playing blues and folk guitar, and his time was divided between guitar and piano. The daily rigor of his Classical training slackened.
Like most colleges at the time, Columbia didn't consider Jazz a legitimate subject worthy of inclusion in its erudite Ivy-league curriculum. However, Donelian loved Jazz piano and worked hard at it. Donelian found a job which lasted for four years playing solo piano in an on-campus restaurant called The Lion's Den. This fortunate opportunity enabled him to develop his familiarity with various solo Jazz piano styles and to increase his repertoire of standards, while paying some of his college expenses. On his own, Donelian borrowed and listened to recordings of Jazz artists like Jackie McLean, Mose Allison, McCoy Tyner and Billy Taylor from the Lincoln Center Library every week or two, and transcribed their solos. He also listened increasingly to modernists including John Coltrane, Chick Corea, Wayne Shorter and Herbie Hancock, and attended performances in Greenwich Village and elsewhere of Miles Davis, Bill Evans, McCoy Tyner, Muddy Waters, Albert King, B.B. King, Frank Zappa, John Cage and others.
Donelian also met a talented upper-classman and then-saxophonist, Marc Copland (formerly Cohen), who directed an informal Jazz band several times a week. It included Sam Morrison, another Columbian who, after graduating, joined Miles Davis for a brief stint. Donelian was soon playing in this band. Copland, who years later switched to the piano, introduced Donelian to the music of Horace Silver, Gigi Gryce and other hard-bop proponents. His encouragement and on-campus performances with musicians like Richard Davis inspired Donelian.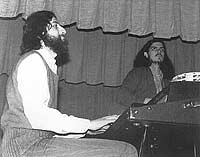 With Rich Marasse, a singer/harmonica player, Donelian frequently played guitar as a singer/songwriter in coffee houses and cafes. The duo explored Mississippi Delta and Chicago blues styles, R&B, the music of Sonny Terry & Brownie McGhee and Hot Tuna as well as original songs. Donelian also formed an eight-piece Jazz-rock band called Motivation with friends Mike DiCuirci, Kenny Blake and Buzz Threlkeld, playing the music of Blood, Sweat and Tears, Chicago and Earth, Wind and Fire as well as the band members' original arrangements and compositions.
By 1972, when he graduated from Columbia with a Bachelor of Music degree, it was clear that Jazz was the direction Donelian wanted to pursue. However, he needed some guidance to integrate the experience he had absorbed from his formal, informal and personal studies into a coherent and unified style.
Donelian also began to take an interest in Taoist philosophy and existentialism.
After college, Donelian moved permanently into New York City and, on Copland's recommendation, began studying with pianist Richard Beirach, who was a pivotal influence in his musical life. Beirach helped Donelian to combine all he knew about popular and Jazz music with his Classical piano training and theoretical knowledge, and to direct it towards modern Jazz.
Nearly every week for two years, Donelian worked with Beirach on Jazz piano performance, composition, solo transcription and the development of an original sound. During this seminal period Donelian roomed with bassist Michael Bocchicchio, whose discipline and dedication made a deep impression on Donelian. The two often invited musicians over to have jam sessions in their Washington Heights apartment, playing standards, originals and improvising for hours. To make extra money, Donelian accompanied Jazz dance classes at the HB Actors' Studio and played for a weekly singer's showcase at the Monkey Bar in the Hotel Elysee. He even toured briefly with a country-rock band led by Bob Sanders, playing guitar and piano in Sheraton Hotels in New York, Boston, Washington (DC), Philadelphia and Minneapolis.
Donelian listened to and frequently attended the performances and workshops of David Liebman's band, Lookout Farm, which included Beirach, bassist Frank Tusa and Jeff Williams on drums. Other Beirach students at the time included pianists Bill O'Connell and Richard Sussman. Eventually, Donelian began to sound like a Beirach disciple. In pursuit of his own voice, he concluded his studies with Beirach in 1974, but not before absorbing the outlines of a path which was to guide his pianistic and compositional development for the next 10 years.
That year Donelian's mother was diagnosed with cancer. A Sword of Damocles dangled over his family's head, since it was unclear how long she would survive. Being of strong constitution, she withstood the cobalt and chemotherapy treatments and continued to live a restricted lifestyle in Florida, where Donelian's parents bought some property and moved.