1 | 2 | 3 | 4 | 5 | 6 | 7 | 8 | 9 | 10 | 11 | 12
3: A Rude and Prophetic Awakening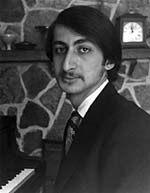 When he was 15, Armen's paternal grandfather died. Disobeying his parents' injunction to remain at home that Saturday night while they gathered with their relatives to mourn at the funeral home, Armen joined his friends with whom he had been intently rehearsing to play a long-awaited rock-band engagement at the Willow Inn, a local tavern in Armonk.
During the second set, Kevin McCabe, the guitarist, informed Armen his father was calling his name and pounding the stage door with his fists. When he went to answer him, his father beat Armen (something he'd never done), called him to task and told him not to come home. It was a rude and yet prophetic awakening from a patriarchal father who never let his children sleep away from home.
This was a painful dividing line in Armen's life. For the first time he felt totally alone and responsible for his fate. From then until he left for college, all he could dream of was living on his own to escape from his father's strict control so that he could freely follow his own musical calling. Not until after his mother's death 13 years later did Armen overcome the anger he felt and truly begin to be able to talk to his father.
Armen's parents provided for his music lessons, escorted him back and forth to every engagement until he became of driving age, nurtured, guided and protected him psychologically as well as materially in all his endeavors. What they hadn't foreseen was his rebelling against their authority and abandoning the Classical career they had planned for him in order to pursue his own path. Furthermore, not even Armen himself understood the forces driving his destiny away from a conventional life towards an undefined future in music.
When he graduated from the Westchester Conservatory in June of 1968, Armen gave a solo piano recital. The program included works by Bach, Beethoven, Chopin, Brahms, Debussy and Prokofiev. Around this time, he was also listening to the recordings of Art Tatum, Ramsey Lewis and Bud Powell, as well as popular music including Bob Dylan, The Beatles, the Motown artists, the Armenian and Turkish songs performed by the "Kef" wedding bands, and songs from Broadway musicals. He also heard live performances of Miles Davis and Jimi Hendrix, both of which made an indelible impression on him. As a high school senior, he left home for the first time to attend the New York State Music Conference for three days as a piano accompanist for the All-State Choir, giving him a taste for travel. Now 18, Armen saw clearly that music was his calling.