1 | 2 | 3 | 4 | 5 | 6 | 7 | 8 | 9 | 10 | 11 | 12
5: Santamaria, Rollins and Essence
In 1975 Donelian received his first major engagement with the Afro-Cuban Jazz octet of master percussionist Mongo Santamaria. He frequently toured the USA, Canada and the Caribbean with Santamaria, performing in major concert venues, Jazz clubs, and recording four albums on the Fania label (Afro-Indio, Sofrito, Mongo & Justo, and A La Carte). Santamaria gave Donelian many solos and performed his compositions, three of which appear on the Sofrito album that was nominated for a Grammy Award in the Latin Music category in 1976.
Never having played in a Latin band before, Donelian nightly cultivated his sense of time, Latin rhythms and sound, and developed professionalism, endurance and a consistent standard of musicianship under such conditions as out-of-tune pianos and jet lag. It was a fun-loving band, exuding great camaraderie and, at times, a spirit of reckless youthfulness. Donelian's cohorts during his tenure included saxophonists Al Williams, Justo Almario and Roger Rosenberg; trumpeters Mike DiMartino, Ray Maldonado and Elliot Rodriguez; bassists Lee Smith, Eddie "Gua-Gua" Rivera and Willie Allen; and percussionists Greg "Peachy" Jarmon and Steve Berrios.
One of the perquisites of touring with an established leader like Santamaria is playing with and/or being introduced to other co-billed festival or club performers. As a member of Santamaria's unit, Donelian performed with Tito Puente, Willi Bobo and Cal Tjader, and heard and met Sun Ra and his "Arkestra" as well as Rhaasan Roland Kirk and George Coleman and their bands.
While on tour, Donelian would find a piano during daylight hours and continue to work on his composing and Classical technique. The cloistered realm of the Conservatory and his studies with Beirach continued to exert an influence on Donelian's activities in the fast world of stage lights and commerce. Recordings with Roy Ayers and Bernard Purdie followed.
Finding himself searching for deeper meaning in his musical activities, Donelian avidly read a book by the Sufi master Hazrat Inayat Khan which he received as a gift.
Donelian left Santamaria in 1976, disenchanted with the limited financial rewards and difficult conditions of road life. Bandmate Almario, who had left Santamaria some months earlier, introduced Donelian to Venezuelan guitarist/composer Amaury Tristao, and Brazilians Dom Salvador (piano), Claudio Roditi (trumpet) and Portinho (drums). A number of engagements and a never released recording resulted. Thanks to this connection, Donelian schooled himself in the arts of Brazilian music with some of the finest musicians in that tradition. Bassist Dennis Irwin, a sideman with drummer Art Blakey's band, was a frequent companion in these performances.
Donelian freelanced in New York City for about a year with a number of other well-known artists, including trumpet legend Chet Baker, vibraphonist Lionel Hampton, conga-man Ray Barretto, drummer/composer Horacee Arnold and trumpeter Ted Curson. His associations introduced him to other up-and-coming talents like Tom Harrell, Joe Lovano, John Scofield, Bobby Paunetto, Mike Richmond, Billy and Glenn Drewes, Ratzo Harris, Jim McNeely, John Burr, Greg Kogan, and Fred Hersch.
Then, in 1977, Donelian joined the band of saxophone giant Sonny Rollins, with whom he toured clubs and colleges in Boston, New York, Philadelphia, Washington (DC), Atlanta, Bloomington (IN), Detroit, Ann Arbor, Dayton and St. Paul. This was another major break. Rollins' band included bassists Don Pate, Michael Henderson and Jerome Harris; drummers Eddie Moore and Al Foster; and guitarist Aurel Ray.
Playing with Rollins, whose towering accomplishments dominate the history of post-bop, Donelian developed a new understanding of what he needed to learn to become a great musician: presence. Since he was not yet at Rollins' level, he felt awestruck and distant from him. One of his first gigs with Rollins was a sold-out concert at Temple University in Philadelphia in which tenor sax legend Hank Mobley sat in. The band was on fire. When it came time for him to solo, Donelian played several choruses and then dropped out. Rollins turned to him and shouted, "Play, play!" It was this kind of encouragement which spurred Donelian to continue to develop beyond his self-defined limitations.
Donelian was not prepared to handle the intense scrutiny that touring with Rollins brought him. As a result, Rollins replaced Donelian after six months. The brevity of this association left Donelian hoping for a more stable sideman situation in which he could learn from and develop closer ties with a leader.
In 1978, Donelian's mother succumbed to the cancer that, after four years of remission, had returned. Although he and his family were well aware of the seriousness of her condition, Donelian was shocked by his mother's death. His relationships with his father and siblings began to open. He started to feel a sense of urgency about life. He began to have a new sense of his priorities. And he noticed a profound acceleration in his compositional development.
At this time a friend introduced Donelian to the works of Mary Baker Eddy (founder of Christian Science) and Indian mystic Bhagwan Shree Rajneesh.
Throughout all his work as a sideman, Donelian's goal was to learn as much as possible and apply it to his own music. While on the road he continued to develop his own compositional ideas. When back in New York he began playing with a band he formed with Liebman's drummer Jeff Williams called Essence, which served as the springboard for the improvisations and compositions of the band members, including Mel Ellison on saxophone and bassist Bocchicchio.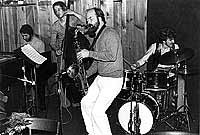 Essence worked locally in the NYC area for about 4 years. In 1979, Donelian wrote "Stargazer," which was later published in The New Real Book Volume 2 (Sher Music). Eventually, Ratzo Harris replaced Bocchicchio. Donelian also performed his pieces in subsequent bands with musicians including Eddie Gomez, Victor Lewis, Harvie Swartz, Dick Oatts, Keith Copeland and Mike DiPasqua.