1 | 2 | 3 | 4 | 5 | 6 | 7 | 8 | 9 | 10 | 11 | 12
8: SunnySide, Night Ark
While in New York Donelian began to play with saxophonist Dick Oatts, who brought a strong yet lyrical sound to his compositions. During the following two years Donelian recorded two more CDs in quick succession for Sunnyside featuring his quintet arrangements.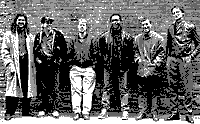 The personnel on each includes (pictured) Barry Danielian (trumpet and flugelhorn), who Donelian met at William Paterson College in 1984; Dick Oatts, Donelian's saxophonist in several New York bands; a young graduate from William Paterson College named Bill Stewart (drums); Anthony Cox (bass), then a co-sideman with the quartet of guitarist Rory Stuart; and Tuncboyaciyan, who he met in Turkey while touring there with Harper in 1980.


Thanks to the contributions of these musicians, Secrets (1988) and The Wayfarer (1990) best represent the fruition of Donelian's composing as it matured in the crucible of the New York music scene from his childhood and college years, through his studies with Beirach, his work with the Essence band and as a sideman with many stars of Jazz, his studies with Seletsky, and finally his trio and solo tours and recordings.
Both CDs received excellent reviews from the press. Secrets was chosen #3 Jazz Album of 1988 in Jazz Hot Magazine's Annual Critics' Poll; and The Wayfarer received 3-1/2 stars from Downbeat Magazine.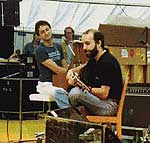 Donelian has always sought to combine Jazz with his Armenian roots. His compositions containreferences to the music of his heritage, in the scales, chords, rhythms and feelings. As a member of the Middle Eastern-Jazz ensemble Night Ark (led by oudist Ara Dinkjian), Donelian's musical search turned towards his Armenian legacy. Night Ark's 1988 recording, Moments, on the RCA/Novus label, with Tuncboyaciyan and bassist Ed Schuller, features Donelian's piece Nocturne, called by one critic "a masterful evocation of Armenian culture" (Sweet Potato).
As a member of Night Ark, Donelian performed in Switzerland in 1990 and Greece in 1994. The band also appeared in the 1997 Istanbul International Jazz Festival to celebrate the release of their CD, In Wonderland, on the Polygram/EmArcy label, featuring the addition of bassist Marc Johnson. The following year, possibly the most successful in Night Ark's existence, included tours in Greece, Israel, Italy and Armenia. Petals on Your Path, Night Ark's latest CD on the Universal/Emarcy label, was released in 2000.